Special Topic: Using Constant Contact [Xamun Marketing]
When the Prospect Card is on the Email Schedule lane, the "Send to Constant Contact" button is visible. Click on this if you want to send an email to contact persons from that prospect.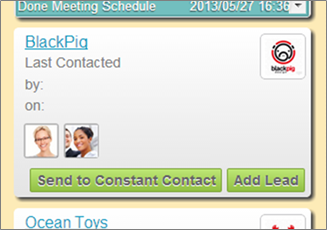 A popup will appear that will ask you to choose the contacts to export. After granting Xamun access to your Constant Contact account, you'll have to choose the list where the contacts will be copied. Afterwards, you can login to Constant Contact and send an email to the imported contacts.
If you want to export multiple contacts from the Email Schedule lane to Constant Contact, click on the button found on the right side of the lane header (see above). Just go through the same steps as detailed for exporting a single prospect's contacts.